It's been a crazy few days but I can say in good faith that we are moved in! Himself and I are like machines when it comes to moving house, neither of us can stand living out of boxes so we just unpack and unpack and unpack. Plus of course Himself has to work tomorrow so his office has to be set up. I have still to unpack books and sort out my yoga space but other than that I think we're done. Himself has even hung pictures on the walls and everything! We're both feeling very at home, both in the house and in Cambridge itself which has got to be a good thing.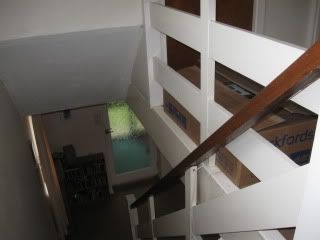 In the front door and up the stairs
Our bedroom
Spare bedroom (not quite ready for guests yet though!)
Third bedroom which will be my yoga space when I've finished it! I have practiced in here a couple of times and it felt goooood!
Me doing laundry, living area to the left, Himself's office space behind me.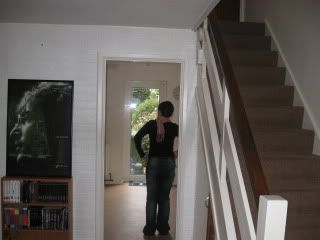 Through into the kitchen (me contemplating cooking!)
Through into the conservatory (various bikes!)
And saving the best til last, check out the view from the back of the house!!!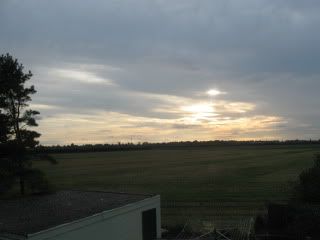 Yup, nothing but fields, we are as much on the edge of Cambridge as we can be, practically the middle of nowhere. Silence, beautiful sunsets and no people! Awesome :)
Tomorrow I have another job interview (still haven't heard anything about the last one but then I haven't heard I don't have the job so who knows?!) and am going to my first Cambridge yoga class. I have a ton of yoga contacts here in Cambridge who I'm going to hook up with over the next few weeks and get my yoga resume out to various teachers and studios and see what happens. Then on Tuesday I have another interview.
So fingers crossed for everything please :)