(mum and dad c. 1978 - apologies for lack of framing in photo, I was only 4)
My mother used to go to a yoga class once a week. I would have been about 4 or 5 and I remember watching her get ready thinking how elegant she looked in her leotard and footless tights, her long hair hanging down her back. It must have been Thursdays because I used to stay home with my Nan and watch Top of the Pops in my personal favourite evening attire of red dressing gown and Adidas trainers. This yoga, I thought to myself as I danced along to the music on the television imagining what my mother was doing at that moment, must be a beautiful thing. When I grow up I want to do that.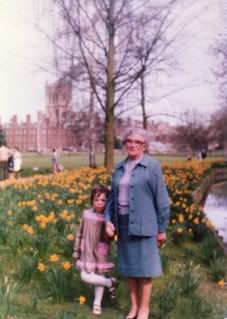 (me with my Nan outside Kings College Chapel, Cambridge c.1978 - check out my tree pose!)
I didn't have to grow up by much. I went to my first yoga class alongside my mum when I was about 7 or 8 years old and I don't really remember a time when yoga wasn't a part of my life.
I wasn't what you would call a sporty child at school. In fact I was rubbish. Everything always hurt, everything always seemed so difficult. I remember one summer practicing backward somersaults in the back garden all weekend just so I wouldn't be the laughing stock in gym class the next week, as usual. I never really questioned my bad co-ordination, I just thought we can't all be good at everything and left it at that. After all I had something that my classmates didn't. I had yoga.
When I was 15 and working for my
Duke of Edinburgh Bronze award
, I chose yoga as my "sport" module. When I was 18 and I was doing a lot of performance art alongside my A Levels, I found yoga helped me stretch, breathe, relax. When I was travelling, yoga was a talking point with other backpackers. When I was at university, the Tuesday night yoga class became the hub of my social life, although looking back I suspect I had quite a sedate university education in comparison to a lot of my peers. Yoga was just there. It never felt like a sport, or a gym class. It just felt like my body moving in the way it needed to move, powered by my breath, as my mind stilled and my stresses, my tensions, my worries fell away.
Despite all this it was years before I considered teaching yoga for a living. I still remembered the little girl who couldn't do a backward somersault to save her life. Who wanted to be taught yoga by her? But then the strangest thing happened. My dad qualified as a yoga teacher.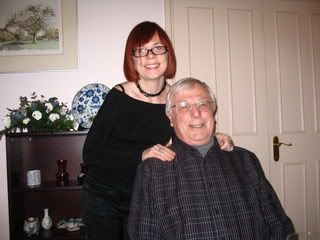 (dad and me on his 70th birthday - November 2008)
Now I love my dad very much, but if you saw him, you just couldn't picture it. He's a slightly overweight accountant who does love a glass of wine now and again (well now really). I guess somewhere along the line mum must have dragged him along to a class too and, like me, he just had to keep going back. Before he knew it he was signed up on a teacher training course.
I talk about how yoga is for EVERYONE a lot, but this was my turning point. This is the point when I realised that yoga isn't about how strong you are or what you look like. It isn't about how "perfect" your postures are, or whether you are wearing the right clothes. It isn't even about austere living and strict rules. I realised that most aspiring yogis and yoginis are just ordinary folk like me with bad back, dodgy hips and podgy tummies, with ordinary jobs that on some days they can't stand, and ordinary families who, on some days, can't stand them. And I realised that maybe I could share my experiences of yoga with other people too, just like my dad.
Yogi(ni) readers, what are your earliest memories of yoga? Where did they take you?

Non Yogi(ni) readers, what is your passion, and what are your earliest memories of it?